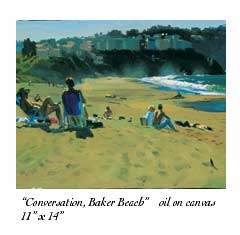 BIGGEST BREAK
"One day in 1990 I walked into the Jeremy Stone Gallery [now closed] in San Francisco and showed my slides to someone whom I thought was the receptionist," he says. "She turned out to be the owner [Jeremy Stone], and she really was responsible for pushing me into the world and exposing my work."
ARTISTIC PHILOSOPHIES
"I can paint anything so long as I am committed to it," Goldstein says. "I can tell when something isn't working for me-if I'm just dutifully rendering the image." He relies on inspiration first but remains committed to seeing that original vision to completion, even if inspiration has long since dissipated. "Art is about nuance and everything that goes into it. A painting is a complete experience."
LATEST SERIES
At the George Billis Gallery in New York City, from May 27 to June 21, Goldstein unveils new works on paper, including a series of "Technicolor paintings" of images from a 1950's wedding reception and another of women at work at hot dog stands.
PRICE RANGE OF WORK
$1,400-2,800 for works on paper; $1,800-6,000 for paintings; $10,000-26,000 for commissions
GALLERY REPRESENTATIVES
George Billis Gallery, 555 W. 25th St. 2nd Floor, New York, NY 10001. (212) 645-2621. www.GeorgeBillis.com.
Article URL: http://www.artandantiques.net/Stanley-Goldstein